Some useful features for better search experience
Finding recent papers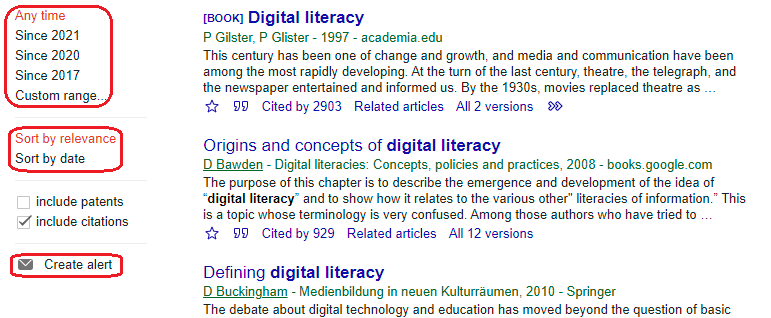 The search results are normally sorted by relevance, not by date. To find newer articles, try the following options in the left sidebar:
click "Since Year" to show only recently published papers, sorted by relevance;

click "Sort by date" to show just the new additions, sorted by date;

click the envelope icon to have new results periodically delivered by email.
Getting better answers

If the search results are too specific for your needs, check out what they're citing in their "References" sections. Referenced works are often more general in nature.

Similarly, if the search results are too basic for you, click "Cited by" to see newer papers that referenced them. These newer papers will often be more specific.

Exploring always helps. Click "Related articles" or "Cited by" to see closely related work, or search for the author's name and see what else they have written.

Knowing the technical terms or jargons helps while searching for academic content. If you are new to the subject, try reading some secondary or tertiary sources on the topic where you might discover some useful terminology. For example, a Wikipedia article on "Teacher" can help you discover terms like "pedagogy."
Searching within the list of citing articles help you discover more relevant and specific articles. Once you click on the "cited by" link, mark the checkbox with the label "Search within citing articles" and search for any keyword. Articles containing those keywords will be shown among those that have cited the main article.
For an educator or a student interested in research, Google Scholar is a great asset. This article is a brief introduction to the search engine. As one goes on using it, there are many more interesting things to be discovered. We hope you can now go ahead and "stand on the shoulders of giants."