Digital Footprints
Footprints can reveal where you have been to. Following them will sooner or later lead to where you are. Similar is the case with your online activities. Following the trail will lead people to your identity, and even location in some cases. This is why your online activities are also known as your digital footprints. It is not uncommon for people to be careless with their use of technology, often leaving unsafe digital footprints which can lead to unpleasant and even dangerous consequences.
Case I: Ollie Robinson's tweets
In June 2021, while 27 years old English cricketer Ollie Robinson was playing a test match against New Zealand, some people discovered a series of racist, sexist "jokes" he had tweeted between 2012 and 2014. Robison was around 20 years old during the time of the tweets.
You can have a look at the tweets below.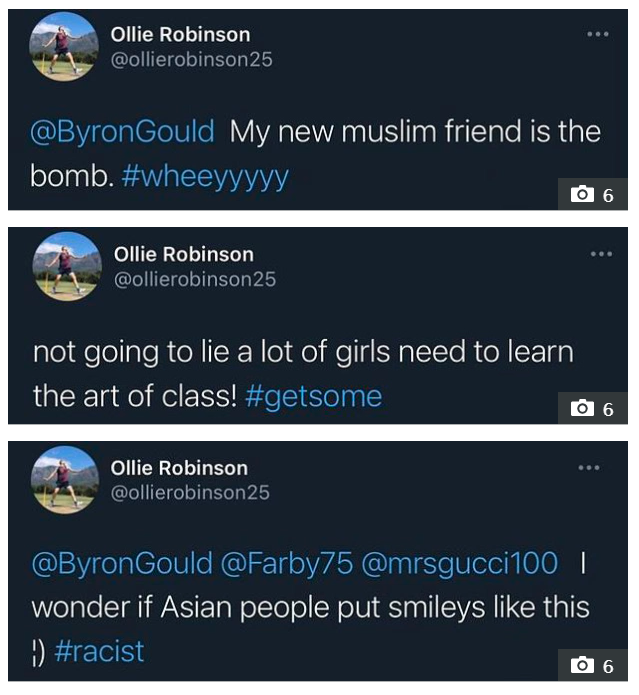 As the tweets went viral there was widespread criticism of Robinson, followed by the decision of the English Cricket Board(ECB) to ban him from playing the remaining matches in the series. While many people have supported the decision of the ECB, some have called the decision too harsh for a mistake committed a decade ago, when Robinson was an immature teenager.
This incident led Graham Thorpe, England's batting coach, to suggest that they should start reviewing the social media history of the players before their selection in the national team. The practice of doing an online background check has been around for the past few years. Some universities do the background check of their applicants, organizations and firms have increasingly been doing social media checks of their job applicants. Even some embassies do a social media background check before granting visas to applicants. 
The 27 years old Robinson might not hold the same views that a teenage Robinson once held while posting those tweets. Robinson, in his apology, had said that he has grown out of his old beliefs and we can't be sure that Robinson still subscribes to those racist views. But his digital activities did leave a footprint that has landed him in trouble and put his career in danger.
Case II: Justine Sacco's tweets
Justine Sacco was a relatively unknown person outside her industry circle, with only 170 twitter followers. A tweet made right before a 12 hours flight catapulted her to top trending people on Twitter, but not for good reasons.
"Going to Africa. Hope I don't get AIDS. Just kidding. I'm white!" She had tweeted before her flight to Cape Town.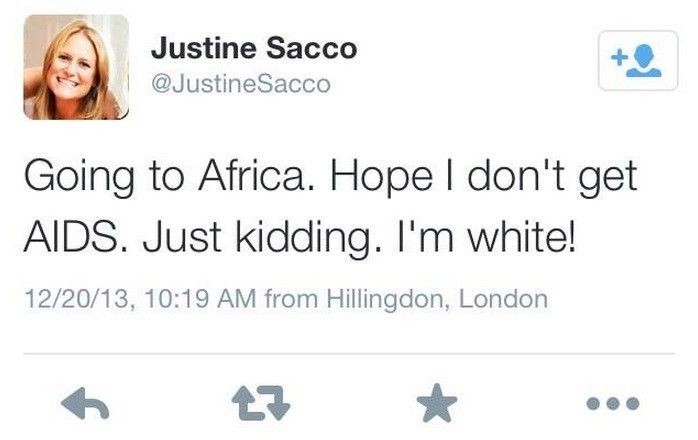 When the flight had landed and she turned on her phone, she was appalled to see that she was the top worldwide trend on Twitter. Her Twitter feed was filled with a variety of tweets and retweets – critical, offensive, pitiful. She also lost her job owing to this incident.
Because Sacco, in her earlier tweets, had revealed that she was travelling to Cape Town via flight, people knew that she was in a flight while her tweet was trending. People were tweeting jokes about Sacco's reaction when she would land and check her phone. The hashtag #hasJustineLandedYet went viral too. Interestingly, one Twitter user went as far as going to the airport to click a photo of Socco and post it on Twitter notifying that she had landed. While it was part of a joke, I find it scary thinking that a stranger can locate you at airport arrivals solely based on your Twitter feed.
While her friend had deleted the tweet, it was too late by then. "Sorry @JustineSacco, your tweet lives on forever." written by a Twitter user, perfectly summarizes the concern regarding digital footprints. Some people might have taken screenshots of the tweet, and anything digital never actually gets deleted. Its copies remain in multiple servers and people with adequate skill can retrieve them.
Once again, let's try to understand Sacco's perspective while she was tweeting. There are a few people who deliberately post offensive things to get attention. Given how she rushed to delete her tweets, with Sacco my guess was that she was just trying to be funny. Her joke was made in poor taste and if she had taken some time to think about how people would perceive her tweet before tweeting  it then she probably wouldn't have tweeted it out. This case shows how important it is for people to deliberate on what they put out in the digital world.
This makes me think about the people I know on social media. How many of them might be successfully tracked through their digital footprints? A lot of them, it seems. People are unaware about the risks of unsafe digital footprint, which makes them careless with their online information sharing. Think about your own digital footprints. What risks are you exposed to?
The pace at which technology is progressing has clearly outmatched the pace at which people are being educated in digital literacy. This increasing gap causes an increase in unawareness, which is most likely to worsen the situation further. Including digital citizenship in school curriculum seems like one of the best moves we can make to avoid this impending digital checkmate.
References:
Journalism and public shaming: Some guidelines
Journalist apologizes for #HasJustineLandedYet Twitter uproar after PR exec's AIDS joke
Ollie Robinson's offensive tweets prove English cricket still has much to learn | Andy Bull
What did Ollie Robinson's tweets say? England cricketer suspended for eight games but has been called back to action